Celebrating More Than Three Decades of Excellence…
I came to the United States in search of the American Dream when I was only 14 years old. I ended up in the Bronx at a place called "Little Italy" on 187th Street and Arthur Avenue. As a teenager, the only thing I had to do with pizza was eating it. As time passed and I grew older, I started working at "Pizza Time" to financially help my family. I knew then that I wanted to someday have a place of my own. So in 1981, with a little money and help from my parents and in-laws, I took my shot at the America Dream. I opened a pizza shop called "Rocco's' Italian Cuisine and Pizza" in New City, New York. I remember when I started – I worked 18 hours a day and the shop only had four tables. The days were long and hard – there were nights I was so tired I slept in the shop – but I believed that one day "Rocco's " would be successful.
In 1982, the business started to take off, so I expanded with eight additional tables. Things went well for 10 years, so I expanded again. I took over the store next to mine and opened up a full restaurant. Today, my restaurant holds 150 for dinners and drinks, but we still serve our customers who have been coming here for pizza since the beginning.
I have been in New City for more than 35 years but I never forgot where I came from. I have given to many schools, sports teams and various charities. It is my great pleasure to give back to the community that has been loyal to my family and me for more than 35 years.
Thank You from Rocco and his Family!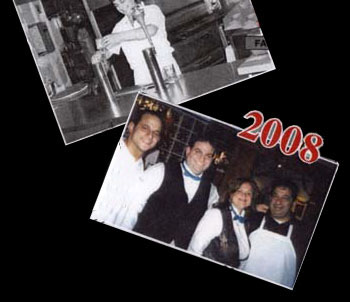 Rocco's Italian Cuisine & Pizza
170 South Main Street - Clarkstown Mall • New City, NY  10956
Phone: 845-638-1375